M6 Mark II Overview
Canon M6 Mark II is the newest and the most capable camera in Canon's "EOS M" line of APS-C mirrorless cameras. It is a successor to the original EOS M6, and in many ways also to the EOS M5. Featuring a new 32.5 megapixel APS-C sensor, currently the highest in any APS-C sensor, it can shoot uncropped 4K video.
Announced on August 28th, the camera is available in 3 variants and will start shipping in late September 2019.
What's New (Canon M6 Mark II vs EOS M6 Mark I)
The M6 II may look similar to the original M6 with only minor design tweaks on the outside, but it has quite an extensive list of improvements on the inside. Here's a quick listing of the upgrades & new features the Canon M6 Mark II got over the M6 Mark I.
The M6 mark II has a mildly tweaked design and is now slightly bigger with an improved grip.
It has a new 32.5 megapixel CMOS sensor (vs 24.2 megapixel sensor on the original M6)
It gets the Canon's new DIGIC 8 image processor (vs DIGIC 7 on M6 I)
More AF points: 143 AF points with 88×100% coverage (vs 49 AF points with 80×80% coverage)
The M6-II has Eye detection AF
It has the Focus Bracketing option
Continuous shooting speed is up to 14 fps (vs up to 9 fps on the M6-I)
M6 II has a RAW burst mode in which it can shoot up to 30 fps in RAW (vs none)
It has an extended ISO range of up to 51200 (vs max ISO of 25600)
Electronic shutter speed can go up to 1/16000 sec.
It can shoot 4K video without crop at 25/30 fps (vs no 4K video)
High speed 1080p video shooting up to 120 fps (vs max 60 fps)
The memory card slot is UHS-II compatible (vs UHS-I slot on the M6 I)
M6 II has a USB Type-C port (vs micro USB)
It has Bluetooth but loses NFC (vs no Bluetooth on the M6-I but has NFC)
The camera supports in-camera battery charging via USB, but only with an optional accessory that's sold separately
Things to Remember about the M6 Mark II
Here are a few points to be noted, when considering the Canon EOS M6 Mark II.
The camera has no 24 fps video recording option.
High-speed 1080p video at 100/120 fps is cropped with no AF & no sound.
Continuous video recording duration is limited to a max of 30 mins.
There's no headphone jack on the camera.
Tilting LCD vertically tilts up 180° and down 45° but not sideways.
The EVF is not built-in. It has to be bought in a bundled kit or separately.
Camera Details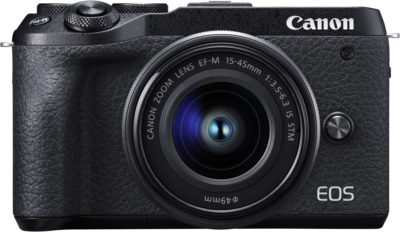 Buy From
Sensor Size
Camera Type
Key Specs / Features
Proprietary
Processor:

DIGIC 8000

Lens:

Canon EF-M
Sensor
Pixels:

32.5

Megapixels

Type:

CMOS

Size:

APS-C
ISO Range
Auto ISO:

100 - 6400

Native ISO:

100 - 25600

Extended ISO:

51200
Shutter Speed
Fastest:

1/4000

Sec

Slowest:

30

Sec
Video
4K UHD:

Up to

30

FPS

Full HD:

Up to

120

FPS
Battery Life
Images:

Up to

410

Shots

*

Video:

Up to

135

mins

*
Displays
Screen:

3.0"

with

1.04

m-dot

Tilting Touchscreen

LCD

Viewfinder:

Optional

EVF
Features
IBIS:

No

Wireless:

WiFi

/

Bluetooth
Interface
HDMI (micro)
USB (Type-C)
Microphone (Stereo Mini)
Canon EOS M6 II review
The EOS M6 Mark II becomes Canon's flagship mirrorless camera with an APSC sensor and proves the company hasn't forgotten about the system. The combination of a new 32.5 Megapixel sensor and DIGIC 8 image processor banishes many of the annoyances of earlier Canon bodies, allowing the M6 II to shoot uncropped 4k video with decent autofocus as well as supporting fast bursts with autofocus too; obviously these were things which rarely troubled Sony or even Fujifilm's recent bodies, but at least Canon has them now.
Canon EOS M6 Mark II review
There's a lot to like about the Canon EOS M6 Mark II. Its small size and low weight make it the ideal traveling companion, without compromising on specs and features, and a super-high resolution APS-C sensor, 14fps shooting and uncropped 4K add up to one tasty package. We have a few reservations, but overall it's a fantastic camera that's well worthy of consideration.
Hands on: Canon EOS M6 Mark II review
Where its predecessor was capable as a compact system camera, the Canon EOS M6 Mark II is a potent primary camera – regardless of category. Its powerhouse 32.5MP sensor sets a new benchmark for APS-C systems, along with ferocious 14fps continuous shooting and uncropped 4K video – all in a truly pocketable body with an optional viewfinder should you so desire. In everything save the mount and sensor size, this is poised to be an EOS R beater.
Canon EOS M6 Mark II Preview
The EOS M6 Mark II marks a big step forward for Canon's APS-C mirrorless system, but the available lenses aren't as appealing as those offered by Fujifilm and Sony.
Canon EOS M6 Mark II Review (in Progress)
It's clear that Canon has turned a corner with the EOS M cameras, but it needs to take the lens line-up more seriously. There needs to be a greater range of lenses with some high-end fast glass.
Canon EOS M6 Mark II initial review: Mirrorless evolution
Canon has turned a corner in its M series mirrorless line-up, with the Mark II M6 adding welcome changes that make for even greater ease-of-use, while the resolution reaches epic new heights.
Hands on: Canon EOS M6 Mark II Review
if you're looking for a small, relatively inexpensive companion to your Canon DSLR and don't mind using it with an EF-EOS M adaptor, it could well make sense as a frictionless option that feels and performs like a mini Canon 90D.