Camera Overview
A smaller and a lighter entry into Canon's new EOS R system, Canon's EOS RP is also the most affordable full-frame mirrorless camera at launch.
Camera Details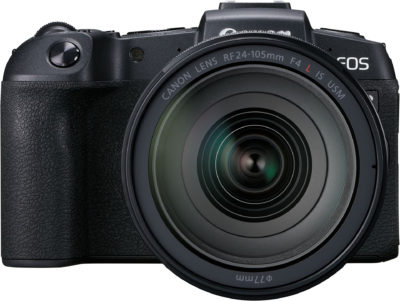 Buy From
Sensor Size
Camera Type
Canon EOS RP review
The Canon EOS RP's specifications aren't exactly exciting, but don't let that fool you – it's a likable little camera with engaging controls, good build quality and it produces excellent JPEGs. Of course, the Raw files are noisier and aren't as malleable as some more contemporary full-frame cameras, but for the target audience, that won't likely be a deal breaker. For those users looking for a friendly way to get into full-frame imaging, the EOS RP is an excellent option.
Canon EOS RP review
While its competitors are going to great pains to create increasingly advanced – and increasingly expensive – high end full-frame mirrorless cameras, Canon is catering to crop sensor consumers who are looking for a full-frame option that won't break their back or their bank balance. The Canon EOS RP is a big success in this regard, offering full-frame functionality and 4K video in a package that's notably smaller, lighter and cheaper than almost all its rivals. It's far from an entry level camera, but it's ideal an entry level full-frame camera.
Canon EOS RP review
I think the EOS RP makes most sense as an upgrade for owners of much older Canon DSLRs, like the original 6D, or perhaps a 5D Mark II, or earlier APSC models like the 70D or even older still. The further back you go, the more you stand to gain from the RP. These owners will enjoy a smooth transition to full-frame mirrorless with decent performance from existing EF lenses and without breaking the bank.
Canon EOS RP review
Arguably a much more compelling proposition for those looking to move to full-frame mirrorless shooting than the EOS R, the EOS RP is blessed with a good build, great image quality, sound autofocus performance and many further pleasures. The sheen is only rubbed off a little by a lack of logical lens options and compromised video capabilities, but if you already own EF lenses and have no use for video it might be just what you were hoping Canon would end up releasing.
Canon EOS RP review: A full-frame camera that cuts too many corners
Canon's second full-frame mirrorless camera, the budget EOS RP, is a disappointment. It has potential as a street photography camera thanks to the small size, but is hampered by an inflexible silent-shooting mode. The fully articulating screen could make it a great vlogging camera, but 4K video is limited by cropping and a lack of phase-detect autofocus. Autofocus performance, handling and great low-light performance are the main bright points. However, image dynamic range is a bit disappointing, especially in the shadow areas.
Canon EOS RP review
There are many things I find lacking or even downright frustrating about the RP, but I can still recognize that it has an important role to play in the growth of the nascent EOS R system.
Canon EOS RP
Canon wants to bring full-frame photography to the masses with the affordable EOS RP. It's a solid camera for the price, but Canon needs to release more low-cost RF-mount lenses to pair with it.
Canon EOS RP Review
A strong full-frame upgrade for those with older Canon DSLRs or a collections of EF lenses, but the EOS RP's older sensor and 4K video limitations mean those starting from scratch should consider an older rival like the Sony A7 II or an APS-C alternative like the Fujifilm X-T3.
Canon EOS RP review
It's light enough to not be a burden and with razor sharp autofocus and top image quality it's what we've been waiting for from Canon
Canon EOS RP review
The EOS RP is intuitive out of the box while offering enough room to grow for established photographers
Canon EOS RP Review
Ultimately, the new EOS RP camera adds up to a lot more than the sum of its parts, offering full-frame mirrorless image quality at an APS-C price point. While it's far from being the most technologically advanced camera ever released, Canon's cunning repackaging of existing tech in a logical design for its target audience could make it one of the best-selling.
Canon EOS RP Review
The Canon EOS RP is a very interesting camera. It's a full-frame model, which makes it attractive to enthusiasts, but it has a pared-back specification that makes it more affordable at launch than any other full-frame camera.
Canon EOS RP Review
The Canon EOS RP offers a LOT of bang for the buck, with great image quality from the 26mp full-frame sensor, packed in to a compact camera body. The camera offers 4K video recording, and is priced very competitively. We'd say it's definitely going to be a winner, as long as you can find the right lens to suit your budget and needs.