Camera Details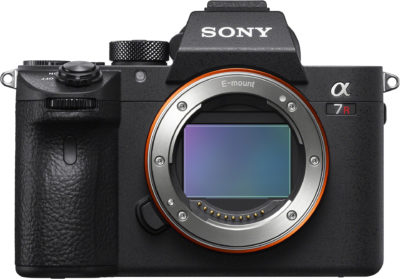 Buy From
Sensor Size
Camera Type
Sony a7R Mark III review
It's fair to say that the Sony a7R III is a great option for an incredibly wide variety of photographers. Offering great image quality, fast burst shooting speeds, high quality 4K video and a reasonably compact package, it's an incredibly well-rounded offering. The endless customization options can be daunting at first, but in the end, it's a camera equally at home capturing fast action one moment, and expansive landscapes the next.
Sony A7R III review
The A7R III is so good, so powerful and so versatile. Its troubling body-lens size mismatch, and 530/650-shot battery life, which is good for mirrorless but poor next to a pro DSLR, means it just loses half a star from an otherwise perfect score.
Sony A7R III Review
The Sony A7R III sees improvements in pretty much every area: physical design features, image quality, speed and performance, as well as video recording capabilities and battery life. The A7R III remains a top-notch camera for pixel-peepers, capturing images with stunning detail and dynamic range, but thanks to inheriting performance and AF improvements from the A9, the camera's also fast and nimble enough for sports and action. The A7R III fixes lots of the shortcomings of the previous two models to become an all-around extremely versatile camera for all types of photographers and video creators.
Sony A7r III review
On the whole, shooting with the A7r Mark III is an overwhelmingly positive and impressive experience, with a feature-set and quality that will satisfy a wealth of photographers. It's easy to Highly Recommend.
Sony Alpha A7R III review
The Sony Alpha A7R III is not only the most well-rounded mirrorless camera you can buy today, but one of the best cameras out there right now.
Sony's A7R III mirrorless can take anything you throw at it
Sony's full-frame, 42-megapixel A7R III is the king of mirrorless cameras, with category-leading resolution, low-light performance and video shooting capability. It also has an excellent electronic viewfinder and stellar autofocus capabilities with spot-on face detection and much-improved subject tracking. Battery life could be better and its menu system is still clunky, but this is nitpicking on an otherwise world-class camera.
Sony a7R III
The a7R III takes Sony's proven high-resolution full-frame mirrorless camera and improves upon its speed, autofocus system, and video capabilities.
Sony A7R III Review
Quite simply, the Sony A7R III is a ludicrously brilliant camera, and one of the very best on the market.
Sony A7R III review
A true imaging powerhouse, with the price tag to match
Sony A7R III Review
The A7R III is the most well-balanced Sony camera to date, offering a compelling mix of resolution, speed and size that also makes it one of the best cameras that we've ever reviewed, be that mirrorless or DSLR.
Sony A7R III review
While it has the same pixel count as its predecessor, the 42.4Mp Sony Alpha A7R III makes some major enhancements on the camera it replaces. As well as improve handling, there's faster shooting, more decisive focusing and better image quality. Consequently, the Sony A7R III is a phenomenal camera. It's serious competition for DSLRs like the Nikon D850.
Review: Sony a7r III
The Sony a7r III is a fantastic camera that is pretty much everything that every working photographer needs. Good autofocus? Great RAW file versatility? Third party lens support? Third party flash support? Improved battery life? Dual card slots? Weather sealing? I mean, what is there to not like.