Camera Overview
The Sony a7R IV is the 4th gen model of the company's 7R series of full-frame mirrorless interchangeable lens cameras. It is a successor to the a7R III featuring a new 61-megapixel sensor among its many upgrades.
Announced on July 16th, it will start shipping in – September in the US & Canada and August in Europe.
What's New in Sony a7R IV (vs a7R III)
The a7R IV gets many new features and improvements over its predecessor – the a7R III. Here's a list of the noteworthy upgrades against the a7R III.
New 60 Megapixel sensor (vs 42.4 MP on a7R III)
New Sensor allows 26.2MP images in APS-C crop mode (vs 18MP on a7R III)
567 phase-detection AutoFocus points with 74% coverage (399 AF points with 68% coverage)
Refined tracking algorithms for improved tracking performance
Real-time Eye AF & Touch Tracking in movie shooting
Pixel Shift Shooting captures 16 images and composites a 240 MP image (a7R III shot 4 images and output a 42 MP image)
Higher resolution EVF has 5.76 million dots (vs 3.69 m-dots, a 1.6x increase over a7R III)
Improved grip and controls for better handling and ergonomics
Upgraded dust & moisture resistance
Slot-2 now supports UHS-II (vs UHS-I compatible 2nd slot)
USB 3.2 for faster transfer speeds (vs USB 3.1)
Dual-band Wi-Fi now supports 5 GHz band (a7R III has only 2.4 GHz)
Wireless tethered shooting (vs wired tethering)
The hot shoe has a digital audio interface for an external digital microphone
Camera Details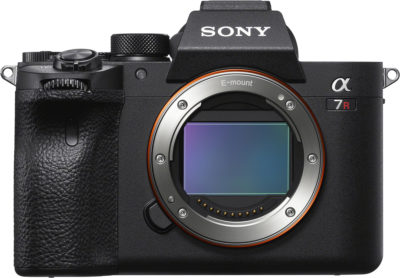 Buy From
Sensor Size
Camera Type
Key Specs / Features
Proprietary
Processor:

BIONZ X

Lens:

Sony E-mount
Sensor
Pixels:

61.0

Megapixels

Type:

BSI CMOS

Size:

Full Frame
ISO Range
Auto ISO:

100 - 12800

Native ISO:

100 - 32000

Extended ISO:

50 - 102400
Shutter Speed
Fastest:

1/8000

Sec

Slowest:

30

Sec
Video
4K UHD:

Up to

30

FPS

Full HD:

Up to

120

FPS
Battery Life
Images:

Up to

670

Shots

*

Video:

Up to

170

mins

*
Displays
Screen:

2.95"

with

1.44

m-dot

TFT Touchscreen

LCD

Viewfinder:

0.5"

with

5.76

m-dot

UXGA OLED

EVF
Features
IBIS:

5-Axis Stabilization

Wireless:

WiFi

/

Bluetooth

/ NFC
Interface
HDMI (micro)
USB (Type-C)
Headphone (Stereo Mini)
Microphone (Stereo Mini)
Sony A7r IV review
Overall the A7r IV is an evolutionary upgrade over its predecessor, but it's surprising how much a boost in resolution and autofocus performance has broadened the flexibility and appeal of this model in Sony's lineup, again allowing it to tempt detail fanatics whether their subjects are static or in fast motion. Recommended, although if 42 Megapixels are enough for you, look for bargains on the A7r III.
Sony A7R IV Review
Overall, though, the new Sony Alpha A7R IV offers a compelling blend of out-and-out resolution, surprising speed and enhanced handling that widens its appeal beyond just portrait, landscape and architecture photographers.
Sony Alpha A7R IV review
The A7R IV proves that Sony is still very much on a roll with its Alpha line. While a handful of niggles from previous models remain, the class-leading pixel count, revamped Pixel Shift Multi Shooting mode and autofocusing improvements in particular show the company continuing to innovate, and push further in all the right directions. And, while it's not cheap, it commands less of a premium than previous Alpha models when you consider just what you're getting here.
Sony A7R IV review: 61 megapixels of pure camera power
Sony is once again leaving rivals choking on its dust with the high-resolution A7R IV full-frame mirrorless camera. The 61-megapixel resolution is more than any rival model, by far, and image quality is detailed and color accurate. Sony's AI powered autofocus system is stunningly fast and accurate, and the Eye AF system is by far the best on the market. It's also got much improved handling and does 4K video well. The drawback, as usual with Sony, is a difficult-to-navigate menu system and rolling shutter in video, though less than before. At $3,500, it's competitive with rivals in pricing and overall, and it might be the best mirrorless camera ever built.
Sony a7R IV Review & Rating
The full-frame mirrorless Sony a7R IV outshines its high-resolution competition with an outstanding autofocus system and a superlative image sensor, delivering class-leading performance.
Sony a7R IV: What you need to know
While the a7R IV helps nudge Sony to the front of the pack, it doesn't look like as big an upgrade as we're used to seeing between whole version numbers. Equally, it perpetuates a handful of irritations that have persisted for multiple generations, now.
Hands on: Sony A7R IV review
The A7R IV's subtle design tweaks make it handle much better than the A7R III before it, and the resolution puts it well ahead of all its full frame mirrorless rivals for megapixels – and yet it has a great ISO range and 15-stop dynamic range too. Sony's hybrid AF system just keeps on getting better and better, but 4K video stays capped at 30fps, which is mildly disappointing.
Sony A7R IV hands-on review
Not everyone needs 61MP, but you'll still want the A7R IV for its speed, autofocus, and durability.
Hands on: Sony A7R IV Review
The A7R IV is a unique camera – one that appears to be just as comfortable out in the wild, shooting action and wildlife, as it does in the studio taking 61-megapixel product photos.
Sony Alpha A7R IV Review (In Progress)
Sony continue to innovate with the latest high-resolution, high-speed, BSI CMOS sensors, and this means they're able to offer high-resolution images, with low noise.
Sony's 61-MP A7R IV Looks Like the New Mirrorless Champ to Beat
Back in 2018, we called this camera's predecessor the new king of mirrorless cameras, and with the A7R IV, Sony might have just passed to crown over to something new.